ATTORNEYS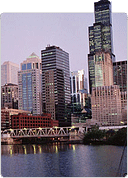 We apply creative solutions to complex legal matters. For example, efficiency is enhanced by high technology which enables attorneys and staff to do more work in less time.
---
The Torshen Legacy
Areas of Practice
Alt. Dispute Resolution
Appellate Practice
Banking & Finance
Business & Commerce
Civil Rights
Condo/Coop Housing
Constitutional Law
Construction Law
Defamation
Employment Law
Environ./Toxic Tort
Franchise Law
Intellectual Property
Landlord/Tenant
Product Liability
Prof. Malpractice
Real Estate Litigation
Securities Law
State/Local/Municipal
Our experience is varied and extensive. We have represented clients like The Nielsen Company, Chicago City Day School, INEX Insurance Exchange, Northwestern College, Hendrickson International, BJB Partners, LLC, B&A Associates, LLC, Bertsch Properties, LLC, TSE Industries, Inc., International Kennel Club of Chicago, W. W. Grainger, Inc. and others. Let us represent you.

Robert Slobig's practice areas include commercial litigation, professional liability and environmental litigation. He serves pro bono as the general counsel for the Chicago Council of Lawyers, and is an ordained deacon of the Archdiocese of Chicago. > MORE

Bradley J. Axel has represented clients in disputes involving a wide range of legal issues. Among other areas of law, his experience includes fraud litigation, municipal/government law, attorney malpractice, land use/zoning, insurance law, real estate litigation and securities. > MORE