AREAS OF PRACTICE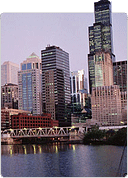 Appellate Practice
The attorneys at Torshen, Slobig & Axel, Ltd. have extensive experience in representing clients in cases involving appeals of decisions to higher courts, including the United States Supreme Court, various federal Courts of Appeal, as well as the Illinois Supreme Court and Appellate Court. Our firm is well known for its thorough legal analysis and careful attention to precise and persuasive legal writing. We are often retained by trial attorneys to handle cases that are appealed.
James K. Genden is a member of the Appellate Lawyers Association. A number of our attorneys trained as law clerks to trial and appellate court judges.
Torshen, Slobig & Axel, Ltd. has represented clients in more than 300 reported appeals in federal and state courts, including the United States Supreme Court. A few of the most significant of these cases are:
Tyrrell v. Norfolk Southern Ry. Co., 248 F.3d. 517 (6th Cir. 2001). (Constitutional law and labor law) We represented a railroad employee in appeal of FELA case involving federal preemption arguments asserted by defendants; We successfully reversed a trial court decision that would have invalidated all state railroad safety regulations. To achieve this result, we persuaded the affected federal agencies to join in the case as amici curiae to support our client's position.


American Nat. Bank and Trust Co. of Chicago v. Mack, 311 Ill.App.3d. 583, 724 N.E.2d. 1014, 244 Ill. Dec. 126 (1st Dist. 2000). (Guaranty/banking law) We represented guarantor, defeating bank's efforts to enforce a guaranty.


Butler v. Mayer, Brown and Platt, 301 Ill.App.3d. 919, 704 N.E.2d. 740, 235 Ill.Dec. 167 (1st Dist. 1998). (Attorney malpractice) We represented the plaintiff in a malpractice action against a major law firm.


Chicago City Day School v. City of Chicago, 289 Ill.App.3d. 55, 681 N.E.2d. 126, 224 Ill. Dec. 144 (1st Dist. 1997). (Municipal law, landmark preservation). We represented a private school in obtaining the right to demolish property nominated for landmark status; the decision led to revision of the Chicago Landmark Ordinance.


International Kennel Club of Chicago, Inc. v. Mighty Star, Inc., 846 F.2d. 1079 (7th Cir. 1988). (Trademark law) We secured trademark protection for client with an unregistered mark and defended the client's rights against an infringer.


Hudson v. Burke, 913 F.2d. 427 (7th Cir. 1990). (Civil rights, municipal law) We successfully represented alderman/city finance committee chairman in civil rights action alleging unconstitutional termination of city employees.


Real Estate Data, Inc. v. Sidwell Co., 907 F.2d. 770 (7th Cir. 1990). (Copyright and intellectual property law) Our work enabled a map publisher to publish its own version of the official tax maps for Cook County, Illinois, successfully challenging the long-established copyright claim of a rival publisher.


Renovitch v. Kaufman, 905 F.2d. 1040 (7th Cir. 1990) (Federal securities law). We represented an attorney in the successful defense of claims alleging the aiding and abetting of securities fraud.


Lease Resolution Corp. v. Larney, 308 Ill.App.3d. 80, 719 N.E.2d. 165, 241 Ill.Dec. 304 (1st Dist. 1999). We represented court-appointed successor of leasing company in suit against a former director of leasing company; succeeded in getting Illinois Appellate Court to recognize "adverse domination" doctrine to avoid statute of limitations defense asserted by director.


Bullis v. Leggett & Platt, Inc., No. 1-03-1765 in the Illinois Appellate Court (1st Dist. 2004). Our whistleblower client prevailed in a decision clarifying the law governing retaliatory discharge claims.


York Woods Community Association v. O'Brien, 353 III.App.3d. 293, 818 N.E.2d. 350, 288 Ill.Dec. 662 (2d. Dist. 2004). We obtained reversal of summary judgment entered by trial court.


Levin v. King, 271 Ill.App.3d. 728, 648 N.E.2d. 1108, 208 Ill.Dec. 186 (1st Dist. 1995). Appellate court affirmed dismissal of plaintiff's malicious prosecution claim which alleged that our client had sought to silence plaintiff by bringing a prior "SLAPP suit"; the court refused to extend the 'special damages' rule to cover alleged violations of First Amendment rights.