AREAS OF PRACTICE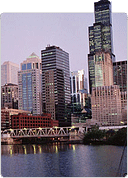 Alternative Dispute Resolution
Alternative Dispute Resolution (ADR) is the process of resolving legal conflicts without going to trial. Torshen, Slobig & Axel, Ltd. is in the forefront of this area, advising clients on arbitration, international dispute resolution, mediation, mini-trials, and private judging. We have extensive experience in determining when a form of ADR is in the best interest of our clients and meets their needs better than traditional litigation. We have substantial experience and training in ADR and routinely advise our clients on the legal consequences flowing from particular terms and conditions of all ADR options. We have represented parties both in arbitration and mediation and in appeals following arbitration decisions.
Nesselson v. Murray, Case No. 91 CH 1226 (Circuit Court of Cook County, Illinois)


Canteen Corp. v. Former Foods, Inc., 238 Ill.App.3d. 167, 606 N.E.2d. 174 (1st Dist. 1992). Our successful appeal enabled our client to reverse a trial court's order vacating an arbitration award.


J.H. Chapman Group v. Chapman, Case No. 95 C 7716 (U.S. District Court, Northern District of Illinois, Eastern Division). Arbitration resolved our client's dispute with a former partner.