AREAS OF PRACTICE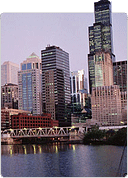 Product Liability
We represent manufacturers and distributors of industrial products in the defense of personal injury and property damage claims arising out of the law of strict liability. We remain in close contact with the client's technical staff, insurers, and vendors, to assure them of an aggressive and coordinated defense, and to minimize the incidence of future claims.
Robert J. Slobig is national coordinating counsel for products issues for a major manufacturer of trucks and truck components. We have successfully represented plaintiffs in mass tort litigation against the manufacturers of defective and dangerous products.
Simon v. Baxter Healthcare Corp., Case No. 98 C 1752 (U.S. District Court, Northern District of Illinois, Eastern Division). We represented a plaintiff in multi-district tort litigation against manufacturers of latex gloves.


Rago v. Federal Signal, Case No. 99 L 4752 (Circuit Court of Cook County, Illinois). Our clients include hundreds of firefighters injured by defective fire sirens.