AREAS OF PRACTICE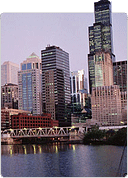 Real Estate Litigation
The firm has represented owners, lenders, lessees and lessors, sellers and purchasers, in actions on contractual obligations and other litigation matters arising out of interests in real estate, including contracts of purchase and sale, options, leases, partition, subdivision, and condominium documents. We handle matters concerning disclosure duties under the Illinois Responsible Property Transfer Act and similar statutes.
Smithfield Properties XV, LLC v. Admiral's Pointe, LLC, et al., Case No. 00 CH 1752 (Circuit Court of Cook County, Illinois). We represented a high-rise property developer in a suit against another developer over easement rights to a private alley.


Chicago Motor Club v. Acquest (Circuit Court of Cook County, Illinois, Chancery Division). We represented a lessor of high-rise property in defeating a claim brought by the holder of a long-term ground lease.