AREAS OF PRACTICE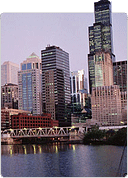 Securities Law
Torshen, Slobig & Axel, Ltd. represents clients in individual and class action litigation in cases involving Federal and State securities statutes, including the Securities Act, the Exchange Act, Rule 10b-5 and the Illinois Securities Act.
Ventre v. Datronic Rental Corporation, Case No. 92 C 3289 (U.S District Court, Northern District of Illinois, Eastern Division). We vindicated the rights of a nationwide class of limited partner investors in a suit over the fraudulent practices of an equipment leasing company and its president.


Renovitch v. Kaufman, 905 F.2d. 1040 (7th Cir. 1990). We represented an attorney in a successful defense against claims alleging the aiding and abetting of securities fraud.