AREAS OF PRACTICE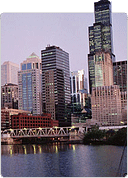 Environmental Law / Toxic Tort
Environmental law is a combination of State and Federal statutes and regulations, local ordinances, and case law governing clean air and water, pollution, hazardous and solid waste, wetlands, and wild lands. Torshen, Slobig & Axel, Ltd. lawyers assist clients to obtain required permits and to comply with regulations and auditing principles. We protect our clients from violations and penalties and advise them on Superfund, hazardous waste, cleanup, and compliance issues. We represent individuals and organizations in bringing actions where a violation has occurred. Our environmental clients run the gamut from individual homeowners to Fortune 500 companies.
United States of America v. Prochnow, et al., Case No. 95 C 962 (U.S. District Court, Eastern District of Wisconsin). We represented an alleged "potentially responsible party" in a Superfund cost recovery action.


Aaron v. Chicago Housing Authority, Case No. 99 CH 11738 (Circuit Court of Cook County, Illinois). We served as co-counsel for public housing residents against public housing authority in a mass tort action for toxic exposure.


201 N. Wells v. Fidelity & Guaranty, Case No. 00 C 3855 (United States District Court, Northern District of Illinois, Eastern Division). We represented the owner of a building contaminated with toxic mold.


Bultinck v. Barnes, Case No. 03 L 4423 (Circuit Court of Cook County, Illinois). We represented a landlord against a tenant's mold-damage claim.