AREAS OF PRACTICE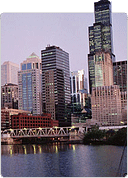 Employment Law
Employment law covers a complex network of laws that governs how employers must treat employees, former employees, and applicants for employment. Torshen, Slobig & Axel, Ltd. lawyers have assisted employer and employee clients in areas such as employment discrimination, affirmative action, sexual harassment, employee benefits, whistleblower litigation, wrongful discharge, employment contracts, the Americans With Disabilities Act, the Family Medical Leave Act, the Worker Adjustment and Retraining Notification Act, the Federal Employer's Liability Act, the Occupational Safety and Health Act, and special laws governing municipal employment. We have negotiated favorable severance packages for numerous clients from their former employers.
Bullis v. Leggett & Platt, Inc., Case No. 03-1765 (1st Dist. 2004). Our whistleblower client prevailed in a decision clarifying the law governing retaliatory discharge claims.


Wright v. Life Start Centers, Inc., Case No. 00 C 0362 (U.S. District Court, Northern District of Illinois, Eastern Division). We successfully represented an employee in a discrimination and sexual harassment suit.