ATTORNEYS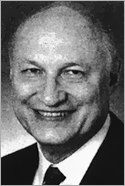 ---
Jerome H. Torshen (1929-2002)
Building on a Legacy
Jerome H. Torshen, a graduate of the Harvard Law School, Class of 1955, practiced law for over 46 years and tried many high stakes cases. His exceptionally fine legal skills and belief in our system of justice set him apart from other practitioners.
Mr. Torshen founded the firm in 1963. He knew the type of attorney he wanted to attract in order to build the high-level law practice he envisioned. By carefully selecting, mentoring and challenging those attorneys to work smart and to maintain the highest standard of service to the firm's clients, he achieved that goal.

The attorneys he trained are continuing his legacy at Torshen, Slobig & Axel, Ltd. Our gratitude for Jerry Torshen and the high standards he set is reflected in the firm's decision to keep his name on the door.
Back to Attorneys