AREAS OF PRACTICE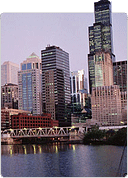 Constitutional Law
The United States Constitution is the cornerstone of the relationship between the Federal and State governments and between individuals and those governments. Torshen, Slobig & Axel, Ltd. lawyers have experience in understanding and applying court decisions that interpret the Constitution and its Amendments in areas such as affirmative action and discrimination, freedoms of speech, press, and religion, search and seizure protections, eminent domain, voting rights, prisoners' rights, and freedom of information. We represent both private individuals and public officials in cases dealing with the power of governmental authorities in matters relating to taxation, public employment, and safety regulations.
Levin v. King, 271 Ill.App.3d. 728, 648 N.E.2d. 1108, 208 Ill. Dec. 186 (1st Dist. 1995). We represented a defendant and successfully obtained the dismissal of the plaintiff's malicious prosecution claim which alleged that defendant had sought to silence plaintiff by bringing a prior "SLAPP suit" and thereby violating his First Amendment rights.


Rago v. Federal Signal, Case No. 99 L 4752 (Circuit Court of Cook County, Illinois). We successfully argued on behalf of firefighters alleging injury from unsafe sirens against arguments that the product liability claim was preempted by federal agency actions.


Tyrrell v. Norfolk Southern Ry. Co., 248 F.3d. 517 (6th Cir. 2001). We represented a railroad employee in appeal of a FELA case involving federal preemption arguments asserted by defendants; we successfully reversed a trial court decision that would have invalidated all state railroad safety regulations.


United States v. Keane, Case No. 87-3030 (7th Cir.). We represented an alderman in a coram nobis action to vacate a wrongful prior conviction for mail fraud.


Cellozzi-Ettleson Chevrolet v. City of Chicago, Case No. 87 CH 319 (Circuit Court of Cook County, Illinois). We represented an automobile dealer in a constitutional challenge to city's efforts for extraterritorial enforcement of sales tax collection obligation.


Geary v. Dominick's, Case No. 85 CH 7844 (Circuit Court of Cook County, Illinois). We served as class action counsel for women challenging the constitutionality of the sales tax rate applied to tampons.