ATTORNEYS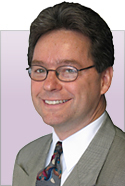 ---
rslobig@torshen.com
Robert Slobig
Mr. Slobig first joined the firm in 1982, left to become a partner at a large Chicago law firm where he worked from 1986 to 1993, and returned to the Torshen firm in 1994. From his experience, Mr. Slobig found he prefers the direct interaction with clients and other lawyers inherent in the operations of a small firm.
His practice areas include commercial litigation, professional liability and environmental litigation. He serves pro bono as the general counsel for the Chicago Council of Lawyers, and is an ordained deacon of the Archdiocese of Chicago.
Education
J.D. cum laude, 1982, Northwestern University School of Law, Chicago, Illinois
Staff member, Northwestern University Journal of International Law & Business
Honors A.B. magna cum laude, 1979, Marquette University, Milwaukee, Wisconsin
Bar Admissions
Illinois, 1982
U.S. District Court, Northern District of Illinois, 1982
U.S. Court of Appeals, Seventh Circuit, 1985
U.S. District Court, Southern District of Illinois, 1991
U.S. Court of Appeals, Ninth Circuit, 1991
U.S. District Court, Central District of Illinois, 2003
U.S. Court of Appeals, Federal Circuit, 2004
Representative Cases
Bullis v. Leggett & Platt, Inc., 345 Ill.App.3d 1146, 863 N.E.2d 857 (1st Dist. 2004). This decision clarified the law in Illinois on a terminated employee's right to sue the employer for retaliatory discharge. The victory in the appellate court paved the way for our client's case to proceed to trial.


John T. Girardi, M.D., Ltd. v. Freedberg, No. 06-1912 in the Illinois Appellate Court (2007). At trial, we defeated the adverse party's most serious claims, but the Circuit Court still entered a large judgment against our client. We persuaded the Illinois Appellate Court to reverse almost all of that judgment, vindicating our client's rights to retain control of his office and to care for his patients.


In re: Cigarette Antitrust Litigation, No. 01 C 2713 (N.D.Ill. May 17, 2001) and Baker v. Jewel, No. 00 L 9664 (Circuit Court of Cook County, Ill. June 6, 2001). The courts in these matters granted our motions to quash subpoenas served on international market research firm as impermissible invasions of confidential and proprietary databases.


Roti v. Washington, 450 N.E.2d. 465, 114 Ill.App.3d. 958, 71 Ill.Dec. 30 (1st Dist. 1983), leave to appeal denied, 450 N.E.2d. 465, 114 Ill.App.3d. 958, 71 Ill.Dec. 30 (Ill. 1983). Famously known as the "Council Wars" case, this litigation clarified the law concerning the powers of the City Council and Mayor of the City of Chicago.


Chicago City Day School v. City of Chicago, 289 Ill.App.3d. 55, 681 N.E.2d. 126, 224 Ill.Dec. 144 (1st Dist. 1997). This litigation led to the reform of the City of Chicago's Landmark Ordinance. The court also examined the "likely to recur but avoiding appellate review" doctrine.


Real Colors, Inc. v. Patel, 39 F.Supp.2d. 978 (N.D.Ill. 1999). International commercial dispute


Butler v. Mayer, Brown & Platt, 301 Ill.App.3d. 919, 704 N.E.2d. 740, 235 Ill.Dec. 167 (1st Dist. 1998). Established Illinois precedent on the accrual of a cause of action for legal malpractice under the statute of limitations.


Datronic Equipment Income Fund XVI, et al. v. Weiss & Company and Price Waterhouse, No. 95 L 17447, Circuit Court of Cook County, Illinois (June 1998). Jury verdict against Big 8 accounting firm for audit failure.


Ashcraft & Ashcraft v. Highland Partners, Inc., No. 91 L 2249, Circuit Court of Cook County, Illinois (October 1995). Recovered $1.45 million jury verdict in legal malpractice case arising out of lawyer's failure to disclose potential conflict of interest.


Burda v. M. Ecker Co., 954 F.2d. 434, 21 Fed.R.Serv.3d. 879 (7th Cir. 1992); 2 F.3d. 769, 26 Fed.R.Serv.3d. 1071 (7th Cir. 1993). Federal subject matter jurisdiction, taxation of worker's compensation awards.


Disc Jockey Referral Network, Ltd. v. Ameritech Publishing of Illinois, Inc., 230 Ill.App.3d. 908, 596 N.E.2d 4, 172 Ill.Dec. 725 (1st Dist. 1992). Successful defense of Consumer Fraud Act and Uniform Deceptive Practices Act claims against directory publisher.


Charles Hester Enterprises, Inc. v. Illinois Founders Insurance Co., 137 Ill.App.3d. 84, 484 N.E.2d. 349, 91 Ill.Dec. 790 (5th Dist. 1985), affirmed, 114 Ill.2d. 278, 499 N.E.2d. 1319, 102 Ill.Dec. 306 (1986). Successful defense of insurance company in consumer class action.


Teamsters Local 282 Pension Trust Fund v. Angelos, 624 F.Supp. 959, Fed. Sec. L. Rep. P 92,490, 6 Employee Benefits Cas. 2774 (N.D.Ill. 1985). Successful defense of securities fraud and related claims against directors of bank holding company.


S.A. Healy Co. v. Metropolitan Sanitary Dist. of Greater Chicago, 581 F.Supp. 654, 20 ERC 2257 (N.D.Ill. 1984). Vindication of rights of successful bidder for major government contract.
Published Works
"Subject Matter Jurisdiction of District Courts," Federal Civil Practice, IICLE, 1983


"Privileges," Illinois Civil Trial Evidence, IICLE, 1985
Professional Associations and Memberships
Member, Chicago Bar Association
Member, Interfaith Law Committee, Chicago Bar Association
Member, Committee for Prevention of Legal Malpractice, Chicago Bar Association
General Counsel, Chicago Council of Lawyers
Member, State Judicial Evaluation Committee, Chicago Council of Lawyers
Member, Federal Judicial Evaluation Committee, Chicago Council of Lawyers
Member, Civil Liberties Committee, Chicago Council of Lawyers
Arbitrator, Cook County Circuit Court Mandatory Arbitration Program
Other
Expert witness in legal malpractice matter, 2002-03 (The case settled before trial.)
Addressed City Council of City of Chicago in 1998 in connection with Near North TIF ordinance.
Phi Beta Kappa, 1979
Alpha Sigma Nu (National Jesuit Honor Society), 1979
Born 1957, Chicago, Illinois
Back to Attorneys