AREAS OF PRACTICE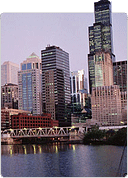 Intellectual Property Law
Torshen, Slobig & Axel, Ltd. lawyers have wide ranging experience in copyrights, trade secrets, and trademark matters, representing both individuals and business intellectual property creators and developers. We have been involved in landmark decisions in the fields of copyright ownership and enforcement.
In re: Cigarette Antitrust Litigation, Case No. 01 C 2713 (U.S. District Court, Northern District of Illinois) and Baker v. Jewel, Case No. 00 L 9664 (Circuit Court of Cook County, Illinois). The courts in these matters granted our motions to quash subpoenas served on an international market research firm as impermissible invasions of confidential and proprietary databases.


Real Estate Data, Inc. v. The Sidwell Co., 907 F.2d. 770 (7th Cir. 1990). Our successful litigation enabled a map publisher to publish its own version of the official tax maps for Cook County, successfully challenging the long-established copyright claim of a rival publisher.


International Kennel Club of Chicago, Inc. v. Mighty Star, Inc., 846 F.2d. 1079 (7th Cir. 1988). We secured trademark protection for our client with an unregistered mark, and defended client's rights against an infringer.


International Kennel Club v. IABKC, Case No. 97 C 1701 (United States District Court, Northern District of Illinois, Eastern Division). We successfully defended an unregistered mark against an infringer.