AREAS OF PRACTICE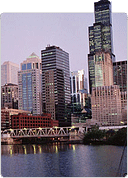 Landlord / Tenant Law
INTEREST RATES UNDER THE CHICAGO LANDLORD/TENANT ORDINANCE AND ILLINOIS SECURITY DEPOSIT INTEREST ACT


| Leases entered into from: | Chicago | Illinois |
| --- | --- | --- |
| January 1, 2009 to December 31, 2009 | 0.12% | 0.25% |
| January 1, 2008 to December 31, 2008 | 1.26% | 0.350% |
| January 1, 2007 to December 31, 2007 | 1.68% | 0.50% |
| January 1, 2006 to December 31, 2006 | 1.71% | 0.55% |
| January 1, 2005 to December 31, 2005 | 1.01% | 0.40% |
| January 1, 2004 to December 31, 2004 | 0.42% | 0.30% |
| January 1, 2003 to December 31, 2003 | 0.52% | 0.40% |
| January 1, 2002 to December 31, 2002 | 0.83% | 0.45% |
| January 1, 2001 to December 31, 2001 | 3.10% | 1.73% |
| January 1, 2000 to December 31, 2000 | 2.71% | 1.73% |
| January 1, 1999 to December 31, 1999 | 2.63% | 1.88% |
| January 1, 1998 to December 31, 1998 | 3.38% | 2.50% |
| January 1, 1997 to December 31, 1997 | 3.42% | 2.50% |
| 1994-1996 | 5.00% | 2.50% |
| 1993 and prior years | 5.00% | 5.00% |

The Chicago ordinance does not require interest on security deposits for owner occupied buildings of six or fewer units. The Illinois Security deposit Interest Act applies only to property with at least 25 units.

Under the Evanston Landlord Tenant Ordinance the interest rates have been the same as the Chicago rates since 2003. From 1976 to 2002, the Evanston rate was 5.00% and for 1975, the Evanston rate was 4.00%.

Other municipalities (Oak Park and Mt. Prospect) follow the Illinois rate.

Be sure to check with the local municipality to be make certain that you are using the appropriate interest rate for security deposits!



Please NOTE: Since it is possible for the laws to be changed at any time, the information provided here cannot be guaranteed to reflect the current law. The information on this website is provided solely for informational purposes and does not constitute legal adivce from our firm. Please consult an attorney before taking any action.